Installing Artificial Grass can be a tricky process. But if done correctly, it will serve you for the years to come and will enhance the look of lawn or backyard.
Artificial Grass is a long term investment, so utmost precaution and care must be taken before artificial grass installation as it will ensure the durability of turf.
In this guide, we will cover how to install artificial Grass in your existing natural lawn, decking, or concrete area.
Artificial Grass Installation (How to Lay Artificial Grass)
Here is the list of steps you must take while Laying Artificial Grass. Not only will these steps show you how to install artificial grass, but there is a list of precautions you must take during the whole process.
1. Pre-Installation
In this first step, you have to assess which tools and materials are required to install artificial grass i.e., cutter, nails, glue, and joins.
Then you have to check whether there is any underground electric wire or water pipe passing on the area where you are going to install artificial turf. If there are any hurdles, then it is recommended to move them away so that there is no risk of electric shock or water leakage while installing turf.
It will be convenient in the future if they require any maintenance. The recommended practice is to get the exact measurement of the area in advance so that appropriate turf sizes can be arranged, which results in less amount of cutting and neat look.
2. Area Preparation
This article is about how to install artificial grass, and most of the people are going to take help during there lawn or yard DIY Project.
In this step, you have to prepare the area, making it suitable for artificial grass on it. So first, you have to remove any existing grass in the area along with roots, so its recommended to remove 3-4″ of the surface to prevent grass or weed regrow.
Then you have to add the base of around 2-4″ recommended by your turf manufacturer. If you are laying on good water absorbent surface, then you sh proceed to the next step. Otherwise, you have to create a slight slope of base material to ensure good drainage of water.
3. Lay Artificial Turf
Now its time to lay your artificial grass rolls. Tools like carpet kickers can come handy in this phase.
If you are using different rolls, then make sure pile direction is facing the same way, and if you are using four tone grass, then place your rolls accordingly. Spread and stretch the grass that covers each inch of your area and some extra grass over the edges.
It is advisable to let the artificial grass settle for a few 2-3 hours before proceeding to the next step.
4. Cut to Fit
Now once you have laid down the artificial grass, its time to cut extra turf using cutter or scissors around the boundary of your area of application. Carefully cut the extra carpet from the underside so you can better see the thread pattern.
5. Join the Artificial Grass Patches
As in most cases, several rolls of artificial grass are used to cover an area. So use Artificial Grass joining Tape or glue to attach these pieces. Make sure that parts are close with each other and little or no gap between them to ensure a seamless, joint less look.
6. Pin Down the Edges
Now its time to secure the edges. Turf Nails and staples are mostly used to pin down the outside border of turf.
For turf durability, the recommended practice is to pin the nails ate the distance of 6″.
7. Spread Infill
Some artificial grass doesn't require infill, but most of them require infill to gives grass strength and helps to maintain blade condition in heavy usage area.
There are different types of infills available. So, if you require infill, then read the manual to see what kind of infill is suitable for your grass.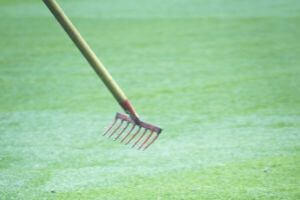 8. Brush
Once you have spread the infill, its time to brush your grass using power Broom, continue to brush the grass until blades direction is straight, and infill is settled at the bottom, giving lawn the perfect natural look.
Precautions While Installing Artificial Grass
Here are common mistakes that people do make while laying artificial grass.
Uneven Surface: The Biggest mistake anyone can make during Artificial Turf Installation is laying artificial grass on an uneven surface. Not only this look awful and painful to walk, but this will also end up ruining your artificial grass.
So if you are laying artificial grass between pavers, please make sure to level the surface for smooth installation.
Ineffective Drainage: It is the most crucial factor while choosing artificial grass, because an effective drainage system will prevent water pool on your artificial turf in case of rain or if you have pets.
You can add a slight slope in the base to ensure effective drainage.
Non-Uniform Joins: Another mistake during artificial installation is uneven joins. Not only this ruins the look of your turf but also turns out to be a costly error when shredding occurs in this area.
So you must ensure that all pieces of synthetic grass are facing in the same direction and have uniform joins. You won't be able to notice joins if it's correctly installed.
Edges: The process of artificial grass installation is incomplete if you haven't secured the edges of the grass properly. Not only it gives a cheap look but also reduces the durability of the turf as these edges began to shred, curl over time.
You can secure the edges using nails or adhesive.
Artificial Grass Quality: No matter how good your artificial grass installation is, if you the quality of synthetic turf is not up to the mark, then it will not last. Always install artificial grass that is suitable for a particular environment.
You can check this guide to select Best Artificial Grass for you.
FAQ